Last Updated on September 9, 2020 by Monica Nelson
Regardless of what your motivation for running is, it's hard to deny that it's a great way to stay in shape, improve your cardiovascular health, enhance your overall wellbeing, and much more.
The problem is that since it's a high-impact activity, you need to take precautions to prevent poor joint health from taking its toll on your body.
In a worst-case scenario, you may experience patellofemoral pain, runner's knee, or other unwanted health issues. As a runner, you could most definitely do without them.
Luckily, it doesn't have to be this way, as there are several things you can do to look after your joints and stop issues such as knee pain from getting in the way of your running progress.
In the following article, I'll explain some of the best ways to protect your joints while running so that you can go about reaching your fitness goals without hindrance.
So, with no further ado, let's dive in.
Don't have time to read the entire article? Then here's my recommendation for the #1 joint support supplement for runners – Performance Lab® Flex.
Don't Forget to Warm Up and Cool Down Properly
Whether you're a beginner to running or are a seasoned pro, you should always warm-up and cool down.
Doing this regularly can help to minimize the risk of injury, allow your body to recover more efficiently, and prevent a feeling of tightness in the muscles.
So, before starting your run, be sure to perform a few stretches. Then, go for a brisk walk for around 5-10 minutes to get the blood flowing.
When you've completed your run, finish with another 5-10 minute walk and a few dynamic stretches. Doing so will make a huge difference when it comes to protecting your muscles and joints from potential injury.
Give Yourself Ample Recovery Time
When you feel like you're in the zone, it can be tempting to push your body to its limits frequently.
While this is undoubtedly a great way to reach your fitness goals, rest and recovery are just as important.
So, be sure to include rest days in your routine and pay close attention to your nutrient intake, which can make or break how efficiently your body will recover in between your runs.
To go a step further, consider incorporating some kind of strength training in your routine, as this can help to build stronger muscles and provide enhanced joint support.
Choose the Correct Footwear
If you're a runner, buying a suitable pair of running shoes should be high up on your priority list.
The pair of shoes you'll need will depend on factors such as your experience level and which type of surface you plan to run on.
Either way, you should always choose a pair that fits you well and provides adequate protection when your foot hits the ground, particularly when running on hard surfaces.
Also worth mentioning is that running shoes won't last forever, no matter how much you pay for them.
So, once they fall into a state of disrepair or are no longer as comfortable as they once were, it's time to invest in a new pair as soon as possible.
Use Joint Support Supplements
Taking into account the above tips will provide a solid base for protecting your joints.
But seeing as the body becomes more susceptible to joint issues throughout the ageing process, it's crucial to go a step further to secure optimal long-term joint health.
Using joint support supplements is a great way to do just that. But this is only when you opt for one which contains proven ingredients.
Some of the best joint support ingredients to look out for include:
Boswellia Serrata
Curcumin (from Turmeric)
Glucosamine
Chondroitin
Methylsulfonylmethane (MSM)
Strontium
Multivitamin supplements are another useful inclusion in your diet, as they help to provide your body with the nutrients it needs to boost bone strength, improve flexibility, and more.
But if you're not sure where to begin when it comes to joint support supplements, there's no need to worry as I've done the hard work for you.
Continue reading as I delve deeper into the best joint support supplements available on the market right now.
Best Joint Support Supplements of 2020
Performance Lab® Flex
Combining all the best joint health supplements in one convenient stack, Performance Lab® Flex actively lubricates and nourishes the joints with joint building blocks that are essential for optimal joint health.
So even if you're regularly taking part in high-impact exercise such as running, you can take Flex every day to reap the rewards of greater flexibility, natural joint relief, and much more.
All of the above is possible thanks to the science-backed formula used in Performance Lab® Flex:
ApresFlex® Boswellia Serrata, 100 mg
CurcuWIN® Curcumin, 250 mg
Mythocondro® Chondroitin Sulfate, 100 mg
OptiMSM® Methylsulfonylmethane (MSM), 100 mg
NutriGenesis® Strontium, 300 mcg
As if that wasn't enough, Flex is also wholly plant-based, meaning it's suitable for vegans. Plus, even its capsules are good for you as they are made from prebiotic fiber.
Performance Lab® Nutrigenesis® Multi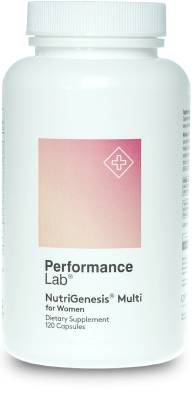 Including a joint support supplement in your diet will undoubtedly make a huge difference in protecting your joints. But that doesn't mean you shouldn't forget about your overall nutrient intake.
That's where NutriGenesis® Multi for Women steps in – the best vegan multivitamin for women in 2020 and beyond.
Comprising 17+ essential daily vitamins and minerals, this fantastic multivitamin includes everything you need to maintain optimal health and enhance your running performance.
And just like Flex, its capsules are constructed of prebiotic fiber – ensuring this product only uses 100% safe, clean, and natural ingredients.
And for any male readers out there, there's also NutriGenesis® Multi for Men, too.
Conclusion
That concludes my full guide on how to protect your joints while running! By following the tips I've outlined throughout the article, you'll go a long way in preventing joint pain, muscle imbalances, and other issues which can affect your running performance.
The natural ageing process means that a little wear and tear is inevitable. But taking precautions early on can make all the difference in terms of achieving optimal joint health.
So, if you'd like to give yourself the best chance of keeping your joints in tip-top condition, taking joint supplements daily is undoubtedly the best way forward.
And by combining Flex and NutriGenesis® Multi for Women, you can rest assured that you'll be giving your body the essential nutrients it needs to achieve optimal joint health and keep you on track to reach your running fitness goals.